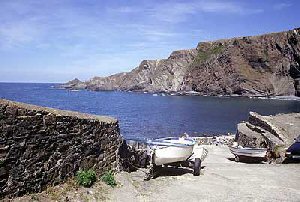 Image ©
Hartland Quay Hotel
Hartland Quay
Latitude: 50° 59'N
Longitude: 04° 31'W
Country: England
About Hartland Quay
The quay was originally built in the late 16th century but was swept away in 1887.
Hartland Quay was once a thriving harbour, mainly because of the area's remote location and the difficulty encountered in transporting goods by road. In the mid 18th century, once the railway had reached Bideford and improvements made to the road network the harbour fell in to decline and it became uneconomic to repair from the repeated storm damage.
Today the quay consists of a small museum, the
Hartland Quay Hotel
, several cottages and a pub.
---
Return to Former Harbours Map