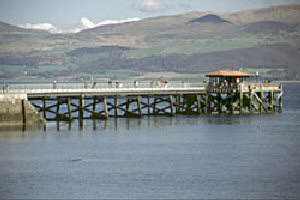 Image ©
The Heritage Trail
Beaumaris
Latitude: 53° 16'N
Longitude: 04° 05'W
Country: Wales
Ownership: Isle of Anglesey County Council (Ynys Môn)
Type: Municipal
Usage: Leisure
Contact name: Mr Mike Mothersole, Maritime Officer
Address: Council Offices, Llangefni, Anglesey, LL77 7TW
Telephone no: 01407 831065
Website: www.anglesey.gov.uk/engli...artime.htm

About Beaumaris
Beaumaris Pier lies at the easterly end of the quiet and picturesque resort, situated across the Menai Strait from Bangor and the towering peaks of the great Snowdonia mountain range.
Designed by Frederick Foster and constructed of wooden piles and iron girders, the original pier opened in 1846. It was a simple structure, built purely for use as a landing jetty, with an early history that appears largely uneventful. The first incident of note occurred in 1872 when, having suffered considerable storm damage, the pier had to be rebuilt. It was further extended in length to 570ft in 1895 and it is believed it was at this time that the 2.5ft gauge baggage line was installed. Believed to have been originally used by the contractors and laid down the western side of the pier, the line appears to have always been manual in operation, using only hand propelled luggage trucks and mineral wagons. The line appears to have fallen into disuse after the Great War of 1914-1918.
At the end of the 19th century a small pavilion was added to the pier-head although little appears to be known of its use. As was the case with most resorts and subsequently their piers, success depended on the volume of steamer traffic that could be attracted. Beaumaris with its stunning Snowdonia views was no exception. Pre 1939 the pier served the steamers of the Liverpool and North Wales Steamship Company, most notably the
Snowdon
,
La Marguerite
and the
St. Elvies
. In the 1920s a local Sunday school is known to have regularly chartered the
Snowdon
for its annual trips to Llandudno. The ferry
Cynful
also provided a regular service to Bangor across the Menai Strait, as well as evening excursions around Puffin Island.
After lack of maintenance during the war years and the decline in passenger services to Liverpool during the 1950s, the now unsafe T-shaped landing stage was demolished. Some restoration work was however carried out by Beaumaris Town Council in the 1960s and in 1974 ownership of the pier passed to Anglesey Borough Council. Since this time regular repair work has been carried out, preventing any further deterioration. Further extensive work was carried in 1987, which did much to improve the pier's overall appearance.
Today this interesting, part stone, part iron pier comprises a small kiosk at the entrance leading to an uninterrupted timber deck with a small shelter at the head. To the left of the main deck is the 'Blue Peter II' lifeboat station. Today the pier still offers local cruises and fishing trips around the Menai Strait along with "some of the best crab fishing to be had" from the pier-head.
---
Return to Area Map