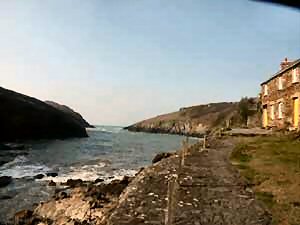 Port Quin
Latitude: 50° 35'N
Longitude: 04° 52'W
Country: England
About Port Quin
The name is thought to derive from the Cornish 'Porth' meaning harbour and 'gwynn' meaning white. One of its earliest references is in 1327 when Laurence de Porquin took his name from the village.
The harbour sent its own ships to Wales during the late mediaeval period, trading coal, manure, antimony, lead and even granite - it is said that granite from Lundy Island, used to build the tower of nearby St Endellion Church, was landed here.
The size of the fish cellars still standing suggests that Port Quin was once a prosperous village and in the census of 1841 the village contained 23 houses and 94 people, but it seems it was already in decline. With the scarcity of the pilchard and herring, and the closing of the small mines, the community slowly moved to neighbouring villages, some emigrating (via Padstow) to Canada. The village eventually became largely deserted, giving rise to local legends of disaster at sea, when one day the Port Quin fishing fleet was caught in a storm and destroyed.
---
Return to Former Harbours Map