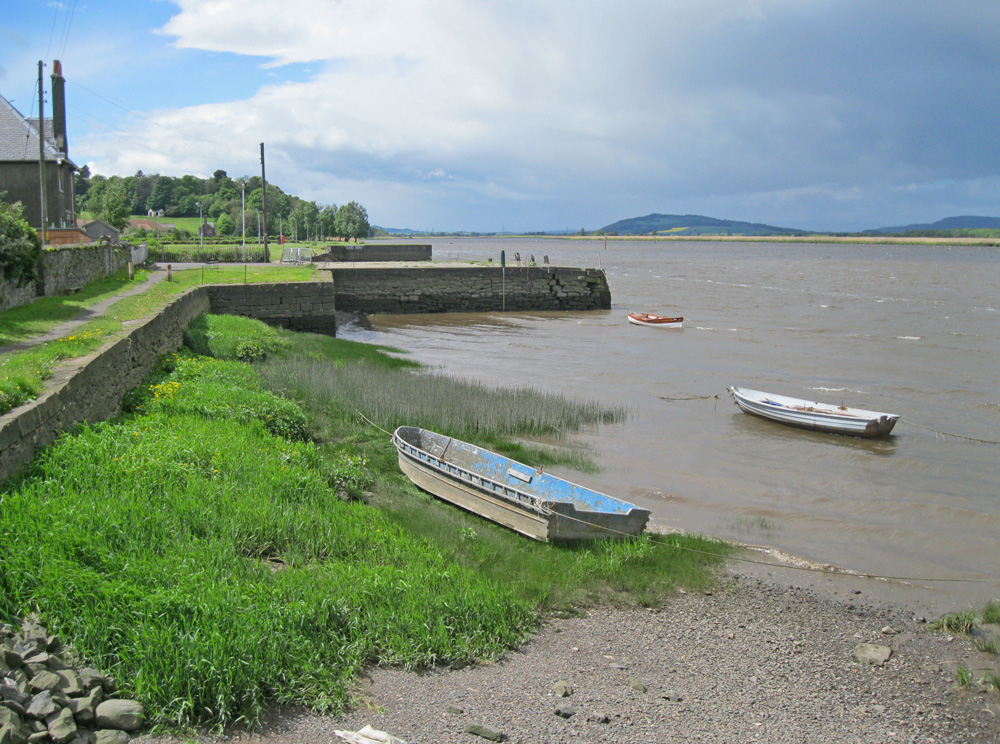 Image ©
Bob Jones
Newburgh (River Tay)
Latitude: 56° 21'N
Longitude: 03° 13'W
Country: Scotland
Type: Unknown
Usage: Leisure, Fishing

About Newburgh (River Tay)
Newburgh is built on the south bank of the River Tay opposite Mugdrum Island where the navigable channel of South Deep runs right along the riverbank.
By the mid 1800s Newburgh harbour, then comprising a quay running along the riverside and four jetties at right angles to it, was home to 40 boats, mostly engaged in salmon or sprat fishing. Secondary businesses thrived, including no fewer than 35 pubs or inns. The railway arrived in Newburgh in 1848, but the surrounding topography meant the station had to be at quite high level on the slopes south of the High Street. The absence of a rail link to the harbour contributed to the latter's decline over the century that followed and by the late 1980s the quay was virtually unused. Today the riverside area of Newburgh is steadily being occupied by new housing.
The westernmost quay, known as Beckett's Quay, is currently closed for safety reasons.
The following account of Newburgh was written in 1846:
"The town is advantageously situated upon the river Tay, which is divided by the island of Mugdrum into two channels, called respectively the North and South Deep, the latter being the principal roadway for ships approaching the port. The greater part of the town has been rebuilt within the last fifty years, and it has also been much increased by the recent erection of suburbs; the streets are paved, and lighted with gas by a company lately established here; and the inhabitants are amply supplied with excellent water from springs. The houses are large, and uniformly built of greenstone found in the neighbouring quarries; and the public buildings, of the same material, are embellished with freestone of good quality from Cupar-moor and other places. The whole appearance is cheerful and prepossessing; and from its sheltered situation, the salubrity of its air, and the beauty and variety of the surrounding scenery, it is fast growing into favour as a summer residence for families at a distance. The linen manufacture has long been established here, affording employment to several hundreds of persons in hand-loom weaving, and to more than 350 persons, chiefly women, in winding bobbins. The linen made here is chiefly dowlas sheeting, for which a ready market is obtained in London, Leeds, and Manchester, and of which great quantities are also exported to the West Indies and South America."
---
Return to Area Map