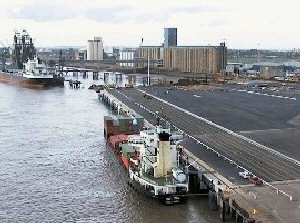 Image ©
Bob Jones
Tilbury
Latitude: 51° 27'N
Longitude: 00° 22'E
Country: England
Ownership: Forth Ports plc
Type: Private
Usage: Commercial
Contact name: Mr Perry Glading, Managing Director
Address: Port of Tilbury London Ltd, Neptune House, Tilbury, Essex, RM18 7EH
Telephone no: 01375 852200
E-mail: perry.glading@potl.com
Website: www.forthports.co.uk/port.../main.html

About Tilbury
The name Tilbury is of Saxon origin, Tilla being the name of a chieftain and "burg" referring to an ancient fort.
Queen Elizabeth I was a famous visitor to Tilbury in around 1580 when she reviewed her troops at the time of the threatened invasion by the Spanish. She delivered a stirring speech which has become one of the landmarks of British history.
During the mid 19th century industry began developing downstream from London, and this accelerated dramatically in 1886 when the Port of Tilbury opened, bringing in thousands of dock workers and their families.
Forth Ports PLC's acquisition of Tilbury in 1995 took the company outside its Scottish base and transformed it in a single stroke into one of the powerhouses of the British private port industry.
Tilbury is one of the key gateways to London and the Southeast and boasts transport links which throw a shadow over a large section of hinterland Britain. It has many advantages - its location in the prosperous South East, close to London, with 30 million people living within a 140-kilometre radius, its direct links to the UK's motorway network, its wide customer base, broad range of cargo handling operations and highly skilled workforce. What is more, the many shipping lines which call from all over the world have for a number of years established Tilbury as a hub of international dimensions.
Tilbury has benefited from an investment of more than £70 million since joining the Forth Ports PLC Group in 1995.
Containers, forest products, bulk grains: all have seen the benefits of the capital investment which a large port group committed to growth is prepared to make.
Among the high profile investments is the establishment of Tilbury's new Finnish Terminal for the import of newsprint and other paper products.
Tilbury's Freeport status continues to offer important advantages to many importers. The entire port complex at Tilbury, totalling over 325 hectares, falls within the Freeport boundary.
---
Return to Area Map