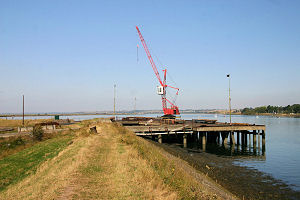 Image ©
Bob Jones
Rochford
Latitude: 51° 37'N
Longitude: 00° 45'E
Country: England
Ownership: Baltic Distribution Ltd
Type: Private
Usage: Commercial
Contact name: Robert Croshaw, Managing Director
Address: Baltic Wharf, Wallasea Island, Rochford, SS4 2HA
Telephone no: 01702 258551
E-mail: sales@balticdistribution.co.uk
Website: www.continentalwood.co.uk...us/baltic/

About Rochford
Baltic Wharf in Essex encompasses 46 acres of storage facilities, including a treatment plant, and specialises in handling all timber based products. A liner service operates between Riga and Liepaja in Latvia and Parnu in Estonia - and there are also regular shipments from Klaipeda and south Sweden.
Baltic Wharf is the only commercial port on the estuary, it stands on the south bank of the River Crouch at Wallasea Island. Baltic Wharf has been in existence since the late 1920s and provides wharfage facilities and storage. In addition to wharfage and storage, the site includes a sawmill and timber treatment facilities. Approximately 60+ vessels per annum deliver to Baltic Wharf, bringing mainly timber and steel.
The Crouch Harbour Authority is responsible for ensuring that navigation channels to Baltic Wharf, (and generally on the estuary), are kept open. The
Crouch Harbour Authority's
bye-laws set out the requirement on all estuary users to ensure a safe passage.
---
Return to Area Map