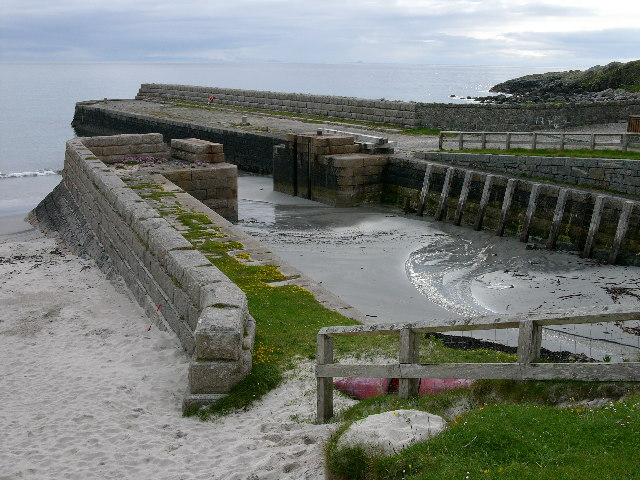 Image ©
Irvine Smith
Hynish (Tiree)
Latitude: 56° 27'N
Longitude: 06° 53'W
Country: Scotland
Ownership: The Hebridean Trust
Type: Private
Usage: Leisure, Fishing
Contact name: Sarah Moore, Executive Director
Telephone no: 01865 311469
E-mail: info@hebrideantrust.org
Website: www.hebrideantrust.org/tiree.htm

About Hynish (Tiree)
The pier and harbour at Hynish were built to enable the transportation of building material for Skerryvore Lighthouse. They were built from granite which came from a quarry on Mull and date back to the 1830s when the lighthouse was being constructed on a rock ten miles to the south of Tiree. The Pier and the adjacent cottages were used by the workers who built the lighthouse.
It was from Hynish Harbour in the 1840s and 1850s that emigrants set sail for a new life in Canada after the division of the crofts and the potato famine.
The whole complex, including the cottages and nearby signalling tower, has been renovated by The Hebridean Trust, an organisation founded in 1982 to promote and preserve the Hebridean way of life.
The harbour, which has a freshwater flushing system to keep the harbour clear of sand, is now used by both local and visiting fishing and pleasure boats. The old pierhead store has been renovated and has now become the Hynish Centre, providing facilities for children's holidays, business courses, university teaching courses and local functions.
---
Return to Area Map