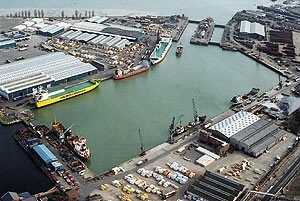 Image ©
Medway Ports
Chatham
Latitude: 51° 23'N
Longitude: 00° 33'E
Country: England
Ownership: Peel Ports
Type: Private
Usage: Commercial
Contact name: Dave Shoebridge
Address: Sheerness Docks, Sheerness, Kent, ME12 1RS
Telephone no: 01634 814936
E-mail: daveshoebridge@medwayports.com
Website: www.medwayports.com/chatham/

About Chatham
Chatham Docks has a new life, following the demise of the naval dockyard. Its quays have been taken over by Medway Ports and are attracting a considerable amount of new trade.
The recommissioning of the rail link into the docks has brought an added dimension to operations and Chatham also continues to benefit from significant road improvements, including the upgrading of the M2 motorway.
Forest products have for many years underpinned and indeed dominated operations at Chatham Docks. Now they are complemented by a more diverse cargo base with Chatham handling a total of over a million tonnes of cargo a year.
Apart from one berth, Medway Ports does not operate Chatham Docks but takes a landlord role, with a small team responsible for operation and maintenance of the locks and the 140-acre dock estate.
Chatham Dock occupies one of three basins of the former naval dockyard. It has a minimum depth of eight metres in the basin, for vessels up to 143 metres long and 25 metres wide.
Kent Wire (Ispat) Ltd has the contract to handle 70,000 tonnes of reinforcing bar being imported for the construction of Terminal 5 at London Heathrow Airport. The rebar is shipped into Chatham from Turkey, Latvia, Belarus and Spain, then loaded to rail for direct delivery to Heathrow. After a trial in mid-May 2003, a system has swung into action transporting 350 tonnes of rebar a day by train.
Another tenant, Convoys, handles about 500,000 tonnes of paper, pulp, timber and other cargo a year at its Chatham base.
Convoys has a 25-acre site with 34,000 sq metres of warehousing at Chatham. It handles about 200,000 tonnes of paper, 200,000 tonnes of pulp and 100,000 tonnes of timber and other cargoes annually.
Shipments of between 1,000 and 5,000 tonnes are handled from Canada, the US, Scandinavia, the Baltic and mainland Europe.
Nordic Forest Terminals' 23,000 sq metre Chatham terminal handles forest products imports and also processes and exports old newspapers and magazines for recycling. Ongoing expansion will increase capacity for recycled materials from 120,000 to 250,000 tonnes a year, reflecting a wider demand for the recycling material ó as well as Sweden, this is now being exported to China, Canada, India and Finland.
Van Dalen's steel scrap processing and export business has grown rapidly at Chatham, and the company is to invest in a new crushing and shearing machine during 2004, which will allow higher volumes to be handled.
At present, Val Dalen is exporting about 65,000 tonnes over the quay each year. Van Dalen operates a four-acre site at Chatham, where it can store up to 20,000 tonnes of different raw steel grades. The scrap is sourced from the South East of England and is exported on two or three ships a month.
Chatham Docks has about 30 tenants in total, ranging from the larger terminals to shipping agents and hauliers with small offices, and including A&Pís shiprepair yard at Berth 5.
---
Return to Area Map