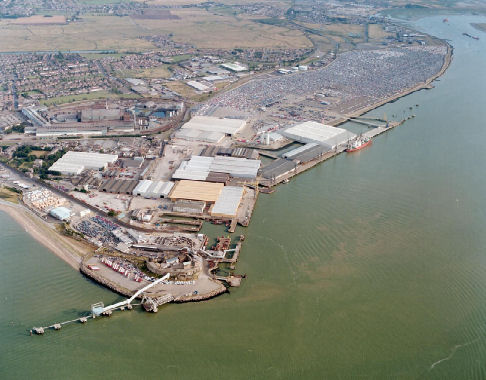 Image ©
Medway Ports
Sheerness
Latitude: 51° 26'N
Longitude: 00° 45'E
Country: England
Ownership: Peel Ports
Type: Private
Usage: Commercial
Contact name: Maria Clarke, Public Relations Officer
Address: Sheerness Docks, Sheerness, Kent, ME12 1RS
Telephone no: 01795 596551
E-mail: mariaclarke@medwayports.com
Website: www.medwayports.com

About Sheerness
The past few years have seen heavy investment in fresh produce facilities at the Port. The £35 million Fresh Fruit Terminal, a development which included a new 160-metre berth and a 30,000 sq metre fully temperature-controlled storage and distribution complex, has recently been merged with Sheerness's other fruit operations to form Britain's biggest fresh produce terminal.
Medway Ports will undertake day-to-day operation of the Fresh Fruit Terminal, integrating the facility with other modern produce handling and storage operations at the Port of Sheerness.
Sheerness is perfectly placed to serve the pulp needs of Kent's busy papermills, while completion of the new M2 motorway is giving even faster access from the Medway to the pressrooms of London and further afield for just-in-time delivery of newsprint.
Large volumes of pulp are transhipped coast-wise from Sheerness to Scotland for papermaking, and via barge to Kimberly Clark's Northfleet tissue factory. There is plenty of opportunity to build on these environmentally friendly options — excellent rail links into both Sheerness and Chatham offer another "green" alternative.
The port handles vehicle exports and imports and the Lappel Bank, an area reclaimed by Medway Ports over the past 20 years, provides 190 acres of dedicated secure vehicle storage.
While Sheerness is best known for its strong performance in vehicles, fresh produce and forest products, the Port also handles a substantial amount of general cargo, including steel and cement. There is also a Ro/ro operation with exports to West Africa and the Mediterranean.
---
Return to Area Map