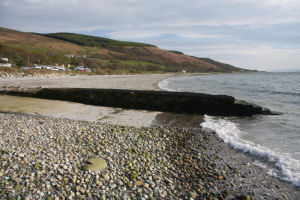 Image ©
Bob Jones
Pirnmill
Latitude: 55° 33'N
Longitude: 05° 23'W
Country: Scotland
About Pirnmill
Early inhabitants of Pirnmill on Arran's west coast made a living through fishing or crofting, but later the village became a tourist destination, with many Clyde steamers stopping at the pier constructed there. This declined after the construction of a pier at Lochranza on the north of the island.
Pirnmill takes its name from a mill that historically stood there until 1840, which produced pirns (wooden bobbins).
Before the building of the pier at Lochranza and the introduction of bus services, the steamers stopped at Pirnmill and the visitors were ferried ashore by boat. The old jetty is no longer used, but a new slipway has been constructed by North Ayrshire Council.
---
Return to Former Harbours Map