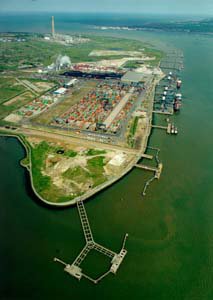 Image ©
Thamesport Ltd
Thamesport
Latitude: 51° 25'N
Longitude: 00° 43'E
Country: England
Ownership: London Thamesport (Part of Hutchison Port Holdings)
Type: Private
Usage: Commercial
Contact name: David Gledhill, General Manager
Address: London Thamesport, Grain Road, Isle of Grain, Rochester, Kent ME3 0EP
Telephone no: 01634 271511
E-mail: gledhilld@thamesport.co.uk
Website: www.thamesport.co.uk

About Thamesport
Built at the turn of the nineties, London Thamesport has quickly become one of the leading players in the European container handling market. Boasting robotic cranes, Thamesport is one of the most technologically advanced ports in the world.
London Thamesport, acquired by HPH in 1998, is strategically positioned where the River Medway meets the estuary of the River Thames and is located within easy reach of Northern Europe's major ports, making it an ideal hub and feeder port. Services currently run to the Americas, Far and Middle East, Africa, Continental Europe and the Baltic. Inland, Thamesport benefits from fast, dedicated road and rail freight connections to the important manufacturing and distribution centres of the UK.
The Port, which includes container and cargo operations, covers a total area of 85 hectares . It offers highly automated secure container yards and modern warehousing. The quay is dredged to a depth of -15 metres, allowing the largest vessels currently afloat, and under design, to berth.
Thamesport is equipped with 2 deep-water container berths, served by high-speed ultra post-Panamax and post-Panamax ship-to-shore cranes.
---
Return to Area Map