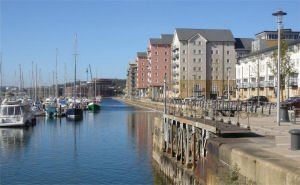 Image ©
Portishead Town Council
Portishead
Latitude: 51° 29'N
Longitude: 02° 46'W
Country: England
Website: www.portishead.gov.uk/new.../docks.htm

About Portishead
Portishead Dock was opened in the mid-1800s. During its early commercial life, the Dock supported the granary, a flour mill and a timber wharf, and there was a petroleum storage works located there. In 1926 work commenced on a Power Station for the Bristol Corporation Electricity Department on the eastern slope of East Wood running down to the Dock, and overlooking the granary and timber wharves. The Station was commissioned in 1929, with coal for the firing of its boilers arriving by sea.
The Dock subsequently played its part in World War II for incoming supplies from various parts of the world. It played an especial role in the Normandy landings on D-Day and onwards, when large numbers of vessels loaded with munitions and supplies set off down the Bristol Channel for France.
The Power Station, along with a second one built in 1959, were demolished in the late 1980s. The Port of Bristol, then owner of the dock, closed it for shipping in 1992 and the area remained abandoned for the next eight years.
In June 2000 work started on the construction of a new lock barrel at the entrance to Portishead Dock, which would enable sailing craft of all sizes to gain access to the new marina. For the first time ever the huge stone built lock was emptied completely of water so that workmen could commence work. It was an impressive sight to look down in to the depths of the lock cavern, revealing an array of perfectly formed stonework built by an army of stonemasons at the construction of the docks.
The new marina was opened on time in May 2001. The former dock is now one of the best equipped marinas in the South West. It is owned by
Quay Marinas
.
---
Return to Former Harbours Map