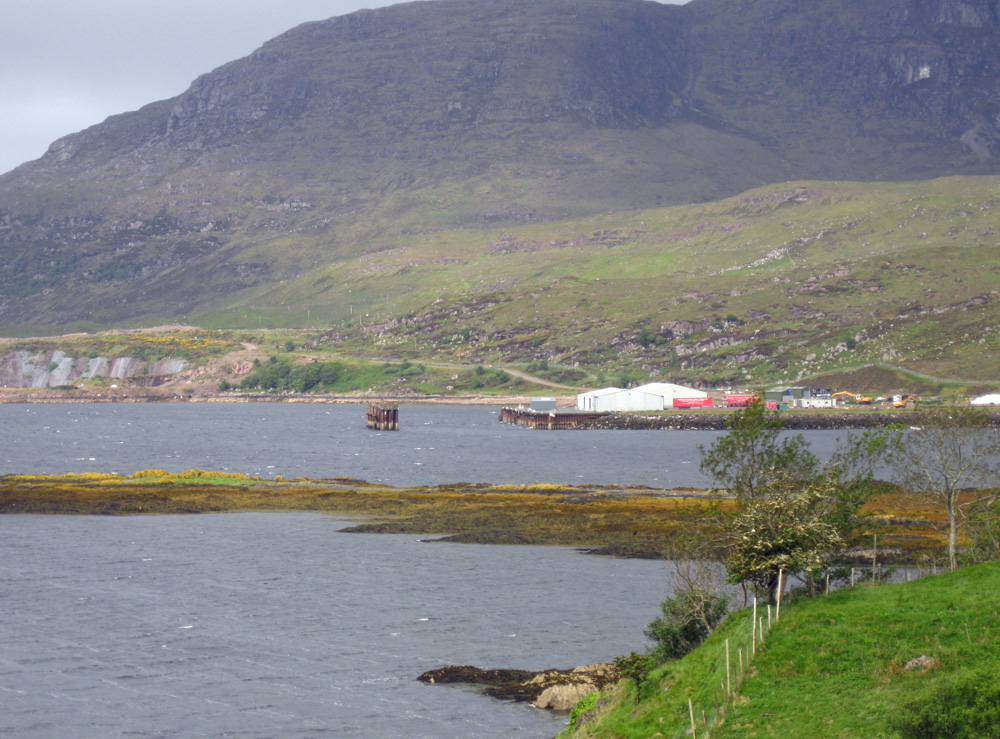 Image ©
Bob Jones
Kishorn
Latitude: 57° 24'N
Longitude: 05° 38'W
Country: Scotland
Ownership: Ferguson Transport Ltd
Type: Private
Usage: Commercial
Contact name: Alasdair Ferguson
Address: Ferguson Transport (Spean Bridge) Ltd., Tigh-Aran, Spean Bridge, Inverness-shire, Scotland, PH34 4EP
Telephone no: 01397 712068
E-mail: alasdair@fergusontransport.co.uk
Website: www.fergusontransport.co....ishorn.htm

About Kishorn
(Adapted from the port's own website):
Delivery of fish food to fish farms located off the West Coast of Scotland has become a major activity in recent years. Because of the increase in this traffic the new port at Kishorn is designed to ease the distribution and warehousing of the stock.
A single continuous straight quay of some 120 metres in length, runs parallel to the general shoreline. At the western end, the quay projects some 40 metres from the shoreline, whilst at the eastern end the loch shore turns northward into the bay and estuary of the River Kishorn. The quay top stands 10 metres above the seabed.
The quay is open to the sea in a westerly direction with deep water close by. The quay could be occupied by vessels up to 100m or more, subject to being not always afloat but on safe aground. The present mooring bollard arrangement allows reasonable security for a vessel of up to 100m in length and approx 3500 DWT.
A regular fish food delivery service is run by Ferguson Transport from the Port along the West Coast of Scotland from as far south as Arran – Mull – Loch Linnhe, as far west as Loch Hourn – Skye – Uist – Lewis – Harris and as far north as the Shetland Isles. Other products handled from this facility are forestry, round wood, road salt and fertilizer.
In addition to the
MV Harvest Anne
, which was purchased in 2004, the owners have added to their "fleet" in 2006 with
MV Harvest Caroline
, a self discharging vessel. Both operate out of Kishorn Port.
Port facilities include:
* Storage & warehousing
* Craneage
* Shipping
* Forestry Bulk Handling
* Overnight berthing available
* Cargo ships, wellboats and barges by arrangement
* Oil related barges or supply vessel enquiries welcome
---
Return to Area Map