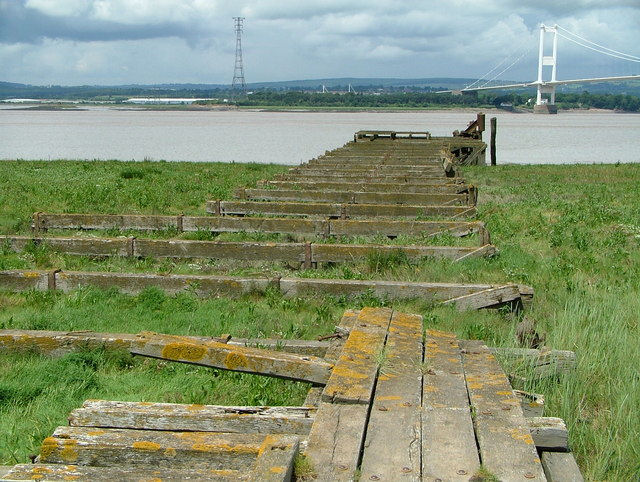 Image © Nicholas Mutton (under Creative Commons licence)
Aust Ferry
Latitude: 51° 36'N
Longitude: 02° 38'W
Country: England
About Aust Ferry
(From Wikipedia)
In 1825 a new era opened with the formation of the Old Passage Ferry Association, sponsored by the Duke of Beaufort, as Lord of Tidenham. The company built stone piers on both banks, and commissioned a steamboat which began to ply in 1827, with a second one five years later, although sailing boats also continued to be used. By virtue of these improvements the company achieved the transfer of most of the cross-Severn mail routes from the rival New Passage. However, the passage remained dangerous. The Beachley-Aust ferry was lost with all hands on 1 September 1839. The same thing happened on 12 March 1844; the master, James Whitchurch was the son of the captain lost in 1839.
In 1863 the railway reached the downstream, New Passage shores on both sides of the river, and this became the standard route. The Old Passage, not connected to the railway, therefore lost much of its traffic. In 1886 the railway Severn Tunnel opened, broadly following the line of the New Passage, and this removed the demand for all ferries until the late 1920s, when the increase in motor vehicles, which were not well catered for by the railway operator, led to new demand for a crossing.
The advent of railways, in particular the opening of the South Wales railway in 1852, the Severn Railway Bridge in 1879 and then the Severn tunnel in 1886, brought a sharp decrease in traffic; both the steamboats were scrapped by 1860 and eventually the service was closed altogether.
The ferry gained a new lease of life with the growth of motor traffic, and a service was re-opened in 1926. Between 1931 and 1966 a ferry service was operated by Enoch Williams of the Old Passage Severn Ferry Company Ltd. Initially this was only able to transport passengers with bicycles and motorbikes, but by 1934 the Severn Queen was launched as a car ferry. Each ferry was able to carry just 17 cars. Each car had to turn sharply off the ramp onto the ferry, then be turned on a manually operated turntable before being parked. The process was reversed for unloading. The ferry timetable was notoriously affected by the huge tidal range on the Severn. It was unable to operate at low tide and at very high tides. The last ferry crossing occurred on 8 September 1966, the day before the first Severn Bridge opened.
The Martin Scorsese film 'No Direction Home' about the life of Bob Dylan has a promotional shot of Dylan standing in front of the Aust ferry terminal in May 1966, not long before it closed for good.
---
Return to Former Harbours Map