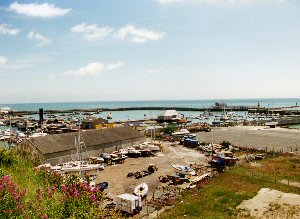 Image ©
Bob Jones
Ramsgate
Latitude: 51° 20'N
Longitude: 01° 26'E
Country: England
Ownership: Thanet District Council
Type: Municipal
Usage: Leisure, Fishing, Commercial
Contact name: Capt. Geoff Tully, Deputy Harbour Master
Address: The Harbour Offices, Military Road, Ramsgate, CT11 LQ
Telephone no: 01843 572100
Website: www.portoframsgate.co.uk

About Ramsgate
Ramsgate harbour was originally built as a port of refuge for vessels sheltering from stormy weather. In 1821 the people of Ramsgate gave King George IV such a loyal welcome that he gave Ramsgate Harbour its unique title of "The Royal Harbour".
It has played important roles throughout recent history, it was one of the main embarkation harbours during the Napoleonic wars. In more recent times many thousands of soldiers disembarked after escaping from the beaches of Dunkirk in 1940, and one of the boats used in the evacuation is kept in the marina today.
The Royal Navy then used it as a base for Motor Torpedo Boats in the "battle of the narrow seas".
In more recent times it is an important ferry port with links to the continent and one of the finest marinas in the south east, holding the prestigious 4-anchor award.
The busy harbour serves local fisherman and international yachtsmen alike, providing a wide range of facilities. There are many interesting activities constantly taking place all around this historic harbour with many vantage points for the visitor to enjoy the pleasant surroundings.
The Harbour also provides the venue for many festivals and events throughout the year such as the spectacular Heineken Race of the Classics, an impressive sight featuring classic old Dutch ships, ranging in size from 15 metres to the largest of approximately 55 metres. See
Port of Ramsgate
for further information about leisure activities within the harbour.
The commercial port (
Port Ramsgate
) is owned by Thanet District Council. It is ideally positioned for access to the English Channel and North Sea and is within 2km of Kent International Airport. Providing full 24-hour a day Ro-Ro freight facilities, the all-weather port is protected by a wrap-around breakwater, with full customs clearance onsite and access to 2,000m2 of warehousing. A regular freight and passenger service operates to Ostende, in Belgium, by
TransEuropa Ferries
.
A new passenger ferry service (>a href="http://www.euroferries.co.uk/index.html?_ret_=return" target="_blank">Euroferries) linking Boulogne to Port Ramsgate is scheduled to commence in Spring 2009. The service will accommodate cars, coaches and foot passengers. Euroferries' state of the art 98m high speed ferry will provide a rapid journey time of 75 minutes. The vessel incorporates an extensive onboard 'tax paid' shopping area, restaurants and first class designated area. Tel: 01843 572105.
---
Return to Area Map